Graphic Impact Websites
Loading...
Since beginning website design in the mid-1990's, we have gone through several major upgrades in our site "architecture," from early, primative efforts in Microsoft® FrontPage® to much more sophisticated techniques using Adobe® ColdFusion® application server and other tools. This site is built using the latest "GI-5" architecture. (Graphic Impact 5th generation).

GI-5 sites have several new features made possible by an upgrade to ColdFusion® 9, along with others that have evolved over several generations, some using jquery and other javascript libraries. Among the key features:
Search Engine Safe urls (web addresses) are easy to read for you and search engines. Two sample urls are shown, the first to the default view of this page, the second to explicitly request the Examples tab.

In GI-5 sites the url is a series of keywords following the domain name.
(.../projects/websites or ../projects/websites/examples).
GI-4 sites also use keywords, but had to include a "base page" and use a query string to pass additional information.
(...main.cfm/projects/websites or..main.cfm/projects/websites?tab=examples).
In GI-2 and GI-3 sites, the url is a base page with a query string that contains all the information needed to display the page.
(..main.cfm?projects=websites or .../main.cfm?projects=websites&tab=examples).

Search Engine Optimization is aided by allowing each page on the site to have its own title and meta description and keywords.
Object Relational Mapping (ORM) greatly reduces and simplifies the code required for database operations. Using a database has been fundamental to GI sites since GI-2, allowing information to be dynamically displayed in multiple views without duplicating data or having to create and maintain numerous html pages. In addition to the flexibility of output, links to documents, websites, mapping services, images, and other functions can be automatically created for the data required for a page.
Page layout has been controlled primarily through Cascading Style Sheets (CSS), instead of html tables, since GI-3. This provides pixel-precise positioning and layering of elements as well as simplifying site-wide changes.
The standard width of sites has been increased from 800 to 1000 pixels (or more), to accommodate today's wider monitors.
Wherever possible, we use a compact page layout to reduce the extensive vertical scrolling required by many sites. This is done by breaking content into several shorter pages, or making use of tabbed (like this page) or accordion layout.
A Content Management System, allows site administrators to maintain most site content.
A number of Standard Modules are available, the most common being Calendar, News, Media Gallery, and Resource Center. See more in this pdf document that describes the Content Management System and available modules.
A Text Size option allows users to change text size of most page content.
A Print Page option allows printing the core content, without header, footer and sidebars. When a page uses tabbed layout (such as this one), the content of the selected tab is printed. It recognizes any text size adjustments, an aid particularly to users who need larger text. When the print option is active on a page, the Share option from AddThis.com is also included.
Site architecture has evolved from a basic Model-View-Controller (MVC) approach introduced with GI-3. This separates background tasks, many of which can be shared with multiple pages, from the actual display.
MS-SQL databases are used on each site to maintain and deliver a majority of site content, an improvement over the original Access databases used with GI-2—and far superior to those first efforts written entirely with discrete html pages.
Random number generators are used throughout sites to rotate content. On this site, for example, one is used to call up quotes in the right sidebar. Another determines whether you see one of the top 5 bestsellers or a promotion for one of our other websites.
See the features in action on some of our sites: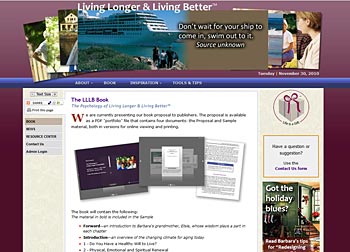 Living Longer & Living Better is our newest site (along with our own site). It uses the GI-5 architecture and will be expanded in features over time. Stu Johnson is co-author of the book behind the site.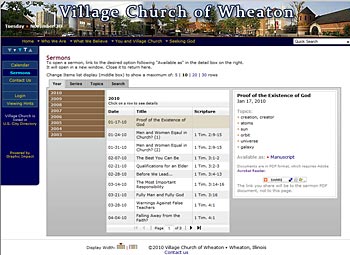 Village Church of Wheaton (GI-4) uses the first approach to Search Engine Safe urls, which still required a base page (main.cfm/about). It also features a sermon directory that makes use of Ajax technology to reduce page refreshing.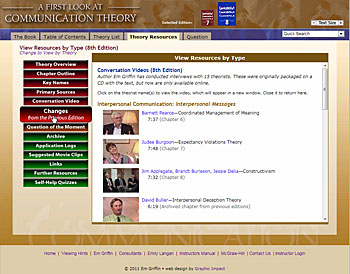 A First Look (custom) is a companion site to the leading college text in communication theory. An update in 2011 adapted the site to service the transition between two editions of the book by allowing users to select the edition they are using. It also moved the site to full GI-5 search engine safe urls. The 2011 update is built on a major upgrade in 2008 that made extensive use of Ajax technology. Some resources are limited to authorized instructors.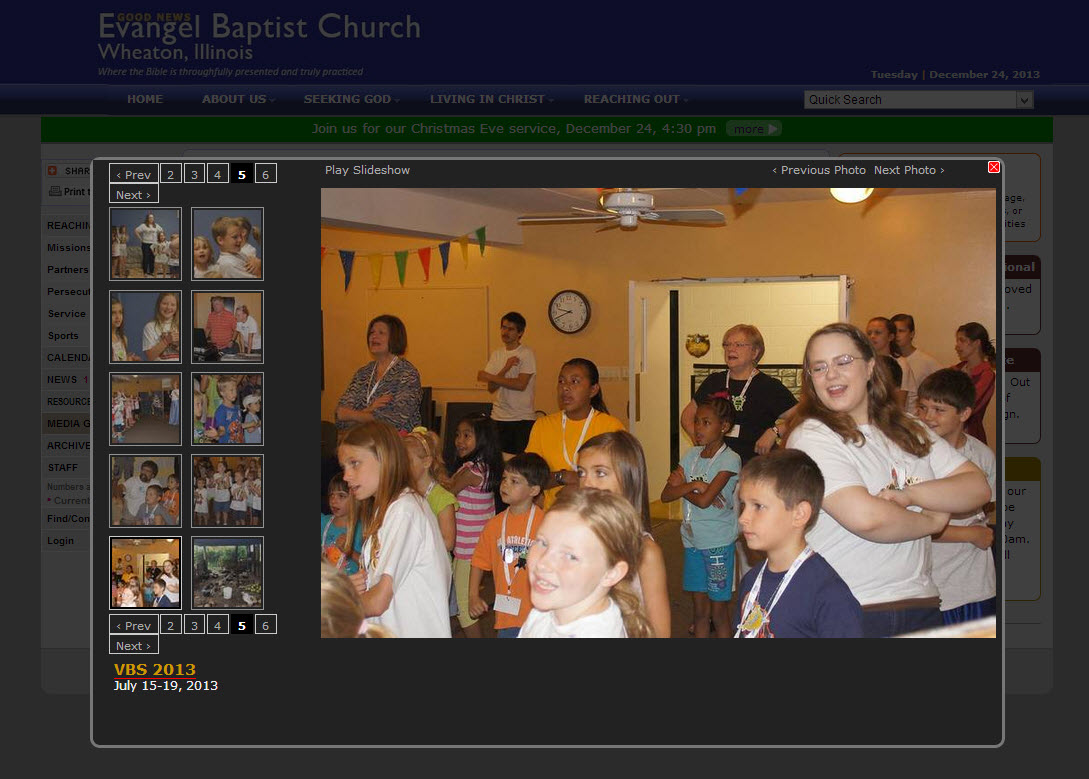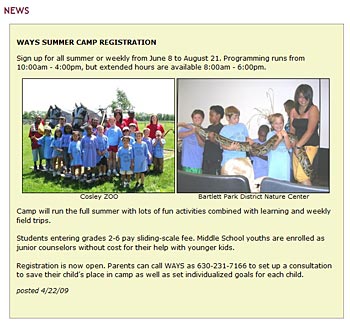 Evangel Baptist Church and Wayne Township (both GI-3) both make good use of Calendar, News, and Resource Center modules. The Evangel site will be upgraded to GI-5 in 2011.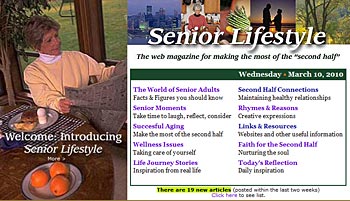 SeniorLifestyle (GI-3) is a web magazine, with contributions from a number of authors on a variety of topics aimed at making the most of the second half of life. Unfortunately, the site's sponsorship hit rough times with the recession and its future is uncertain.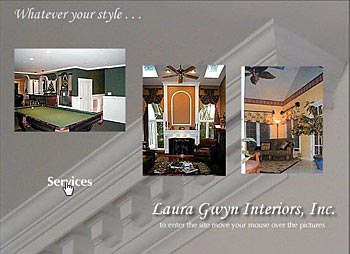 Laura Gwyn Interiors is one of our older sites, as the owner went into hiatus for a while to care for her young children. The simple design is still effective, but will be updated to a GI-5 site, with a completely redesigned Before/After project gallery.
©2013 Stuart Johnson & Associates