Saturday
|
April 10, 2021
Bestseller Insights
For several years, we made available a top bestsellers list on this site that showed the top-25 titles by consolidated ranking across the three lists for the current week, month, quarter, past 12-months, and the last five calendar years. It was updated weekly. Our full research was made available through the Book Publishing Report produced by Simba Information. That publication ended in December 2013, but samples of some of those reports and other resources are available below, under the title "Bestseller Insights."
Bestseller Insights included: Bestseller Reports, Trend Graphs, and a Web-Based Interface.
Religious authors and publishers: Religion in America is a helpful resource for understanding trends.
Return to Bestseller Project History
Bestseller Reports
Typical reports we did include the following. Click on the title to see a sample report.
They represent the types of research available. Since these were tailored to Simba Information's editorial needs, any reports done for other clients (and topics) will be tailored to specific client needs.
Scorecard—activity and trends for past month (or other timeframes)
Category Review—analysis of a category (Romance, Biography, Religion, Mystery, etc.) for the last four quarters, last five years, and ten-year benchmark
Category Summaries—summary version of the monthly category review for approximately 16 categories each year—customized in number and scope by client (Sample is overview)
Children's Books—similar to Scorecard, but charts break down NYT, PW, USA separately in addition to composite. Includes a breakdown of Children's titles by age bracket. (Sample is age-range analysis)
Comparing Publishers—Analysis of a dozen publishers for four quarters. The report is organized around parent company composite data and parent company by imprint.
Book Price Study—updated annually to show trends in pricing by format.
Self-publishing—first report prepared in 2013. (No sample available.)
Special reports—A number of smaller, more specific reports can be produced dealing with authors, titles or just about any criteria of interest available in the database. Samples: James Patterson, Rachel Ray, Million Pieces Fraud.
If the types of research, analysis and reporting represented here could be of use to your organization (obviously using the data applicable to you), please use the Contact Us form to tell us about your needs.
Back to top
Trend Graphs


Toward the end of our bestseller work, we added three graphs as a regular part of the Top Bestsellers reports on the website: new ISBNs, weekly and monthly; and median print volume by month. They were made available in a larger size from the Trend Graphs page.
Back to top
Web-based Interface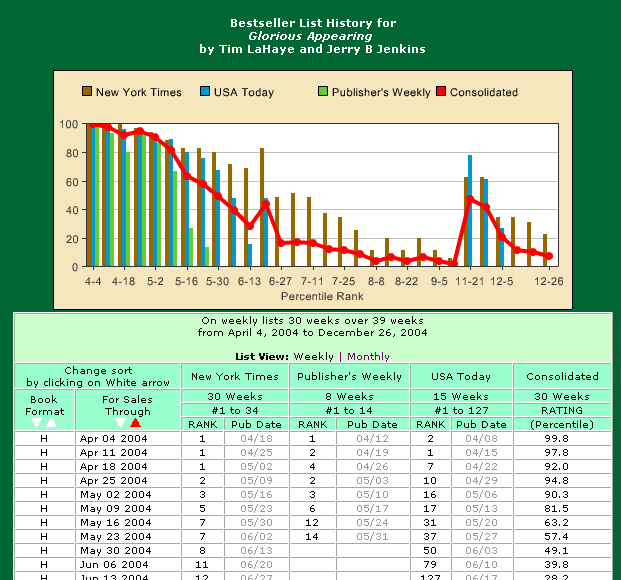 During our early work with Tyndale House Publishers, we developed a web-based interface. Among its features was the ability to search by title, author or publisher and then view summary information about a title or see its List History (screenshot).

A similar approach can be used for other organizations or industries, with the web interface either public or restricted to authorized users.
Back to top
Return to Bestseller Project History